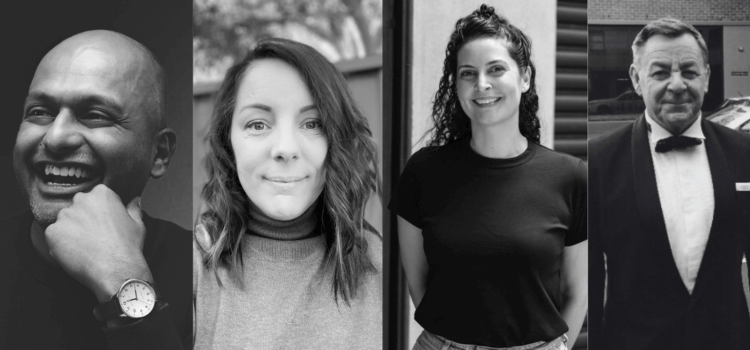 EXPERIENTIAL IS A CANDIDATE MARKET
TKR Group have been working with some of the nation's most loved experiential agencies, where they have been pushing the boundaries when it comes to the customer experience.
We have seen a huge shift over the past 6 months where experiential agencies are demanding top talent as their clients are pushing for their budgets to be utilised more with experiential marketing.
We have reached out to a few of the agency leaders to hear more about what they are seeing when it comes to experiential marketing and the need to find top talent;
Vinny Panchal, Group Managing Director at Jack Morton and Weber Shandwick says;
We are witnessing a significant shift in brand owners' expectations, driven by the increasing investment in creating exceptional experiences that are more than just one moment in time. It's more than a specific channel. We all (clients, agencies, talent) want our ideas to work harder, be more integrated, capture more attention, and make a more meaningful connection.
At Jack Morton, our teams counsel clients across brand strategy and storytelling, experiences, content creation, tech usage and innovation, stagecraft, data analytics, demand gen, logistics and supply chain. They also advise in specialist practice areas like Sponsorship, Healthcare and Diversity-Marketing. It's a lot, right? What we do is not easy. It's hugely complex, but when done right, it delivers extraordinary.
Having the best talent remains crucial to helping us meet the demands of this hugely progressive category. Clients like Amazon, Canva and Google seek to craft consistent and holistic experiences where people can move seamlessly between real-world and digital channels, between local and global. And brands like adidas are looking to us to find new canvases for creativity to shine. They can't all compete in media to be heard. They want ideas that generate earned opportunities, create conversation, and market themselves.
That's why Jack Morton will always be on a journey to design a better workplace to attract talent that can deliver on this ambition. You can't stop. Today we are rewriting our creative briefs to drive diversity, asking applicants what adjustments they need to excel in the workplace. Still, our biggest focus is helping our clients reach for zero with completely sustainable experiences. These things take patience, passion, and people like you, the reader. Let's foster a culture of belonging, which we know will translate into more meaningful experiences for our clients, our teams and our communities.
Karina Munoz, Head of Clients at Amplify says;
Australia is home to some of the most important cultural moments in the world right now. In 2023 alone we've seen Sydney WorldPride, FIFA Women's World Cup and later in the year, we will play host to the inaugural year of SXSW Sydney, so it makes sense that brands are increasingly investing their marketing budgets towards brand experience. Experiential marketing gives brands the opportunity to connect with their audience like no other discipline, as we are reaching people who are already invested in a shared interest or passion.
At Amplify, we're lucky enough to partner with some of the most innovative brands in the world to bring these tentpole moments to life, and so having the right talent in the building is a constant priority. Our agile approach as a global agency means our creative ideas, craft and talent are not siloed by set geographies.
Amplify's social mission is to 'connect with, enable and champion young creative talent, from all walks of life'. To achieve overall change in our agency and the industry, we must prioritise looking beyond the traditional talent pipeline. Having a range of talent enables us to approach challenges from different perspectives. In order to support a more diverse workforce, we've worked to ensure our business is set-up to support people in different situations, with a variety of perspectives considered. We believe we have a collective responsibility to 'pass the baton', and we try to lead by example.
Gus Guthrie, Founder, Momentum WW Says;
In some ways, COVID was the best brief Momentum ever received, allowing us to develop new capabilities and strategies that we have carried forward to this day. But it wasn't fun.
Until 2020, "Experiential" was largely synonymous with "Live". The pandemic forced us to redefine the idea of experiential, both for ourselves and our clients and embrace virtual and hybrid events.
It also enabled us to eliminate borders and offices in North America. We built a single creative offering where the right talent could flow to the right project. Creatives from New York began working on Chicago projects, Atlanta creatives began working with creatives from Toronto – and the results were better than our hopes – and this is being expanded across the globe.
By removing silos, we discovered capabilities we did not know we had, ideas we did not know we could think of, new skillsets for our creative talent to develop, new outlets for their abilities, new creative structures for our accounts, and new pathways to leadership for our high performers.
In this way our team can see their ideas come to life overseas and learn new skills from other Momentum offices eg: working with the team behind the AI- powered Coke Studio experience at music festivals that turns fans into rock stars with their own unique band name, first single, album art and music video.
With every step we are becoming stronger as an agency, our ideas have become better, our employees are more fulfilled, our clients happier and we grow as a company with global opportunities proving a magnet for top experiential talent.